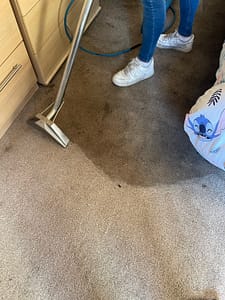 The best local carpet cleaning is available for your home or business in any area in or around East Kilbride. Our company Perfect Clean has been operating in the carpet cleaning business for over 10 years now and we are a family run business so we only want to offer you the best service. We have plenty of carpet cleaning experience as well as upholstery cleaning and want to offer you our expert
experience and specialist skills in East Kilbride.
You don't even have to worry about a disruption to your home or daily routine, we work quickly and efficiently. This means that no one needs to cart all of your furniture and belongings out of the room, we work around your room and replace the furniture once we have cleaned that area. It only takes a few hours for your floor to dry after carpet cleaning and the solution we use is 100% non toxic. By using a non toxic carpet cleaning solution it means that your pets and children are safe to run around your home without you stressing that it might harm them. Many of our customers have recommended and returned to us within East Kilbride because they have been so happy with the work we carried out in their homes.
If you would like to speak to us and arrange your safe and efficient upholstery or carpet cleaning service in East Kilbride then just call us today.